Hi,
For me this is problem with the data stream from the camera.
Is it always from the same camera or is it from all cameras?
If it always is from the same camera how is it connected? Template, Custom URL, ONVIF?
Is the live video from the camera fine or does it go green also sometimes?
-Henrik
Its a Wansview -2 and connected with a custom URL. Sometimes it works fine for a few days then switches to green and then back again for later recordings. I also have an occasional issue where ghost images are left as a recording proceeds, with several cars or people (all the same one(s)) being left behind.
I only have one of these cameras.
the live video is always OK
also the thumbnails are never green
If it is connected with wifi most likely the signal strength is to low. Test with cable.
In custom url use rtsp_tcp since that use error correction.
The url I use is:
rtsp://admin:password%24@192.168.0.142/live/ch0
I replaced (as suggested) with:
rtsp_tcp://admin:password%24@192.168.0.142/live/ch0
but that stopped the reception
The wifi is very strong and I never have any dropouts or greening in the live video. Wiring it is impractical in its current location.
I misunderstood your rtsp_tcp suggestion and have now selected that in the dropdown. I will let you know if that fixes it. It may be a while. It looks OK on the 1st recording.
thanks
Frank
Hi Henrik,
another 20 recordings today and no green ones.
looking good
Thanks
Frank
Hi,
Good news. However, it should not be that bad with rtsp_udp. I recommend you to check the firmware in the camera. If it is old update to latest. If the firmware is up-to-date install the firmware again. That can help sometimes.
-Henrik
Hi Henrik,
It didn't fix the problem. All the recordings were OK up till this one and subsequently they are all green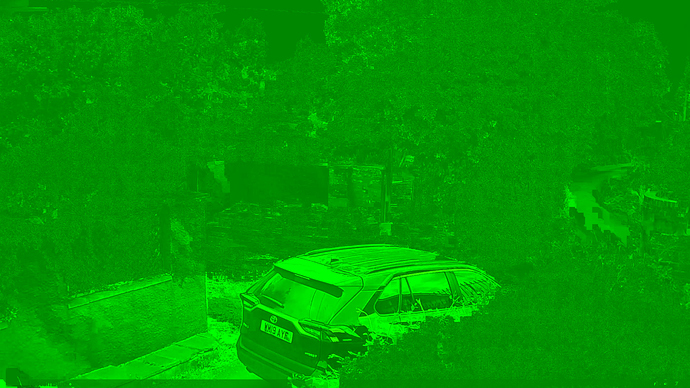 I stopped the program and restarted and it fixed it temporarily but it keeps reoccuring
regards
Frank
Do you have access to the firmware for Wansview W2?
Henrik,
Did the clean install, seems OK at the moment after 12 hours or so,
I'll update in a few days to let you know if it re occurs.
thanks
Frank
Hi Henrik, no further problems with green screen since clean install. It's also fixed a ghosting issue where images left trails of objects in their wake
Thanks
Frank
Hi Frank,
Thanks for the feedback.
Excellent news! I am happy it was the part that was easy to fix


-Henrik