I have the latest version of NetCam Studio (1.2.5) running on Windows 10 and I am able to pull up an RTSP stream from a camera using VLC player, but when I enter the same address in Studio I just get a black screen (see below). I am pretty sure I have the URL correct but for some reason it does not load on Netcam Studio, any suggestions?
Same URL's: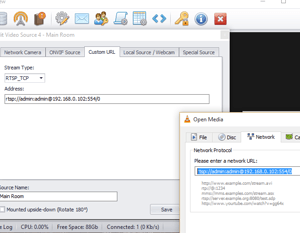 Different results:
(Looks like new users can only post one image, so you will just have to trust me, Netcam Studio is a black screen and VLC shows a live video feed.)
Warning! Separate but similar Topic.

My camera (the Dripstone IR Dome Camera- some cheap import from china) also says that it is ONVIF 2.4 compatible so I tried to connect the camera using the ONVIF format. I cannot type the IP address into the netcam field but when I do the onvif search it comes up as blank. No ONVIF cameras found. I thought that was strange so I found the source forge project to manage onvif cameras ( http://sourceforge.net/projects/onvifdm/ ) and it finds it right away and even show a live video feed. Is there something I need to do with Netcam Studio so that it recognizes the camera or better yet some way I can force an IP address to look at rather than using the search tool?