Hi,
I use 64 camera Hikvision DS 2CD2120F-I. I want record 24/24h, video quality 1080p, 4FPS.
Pls help me.
Thanks.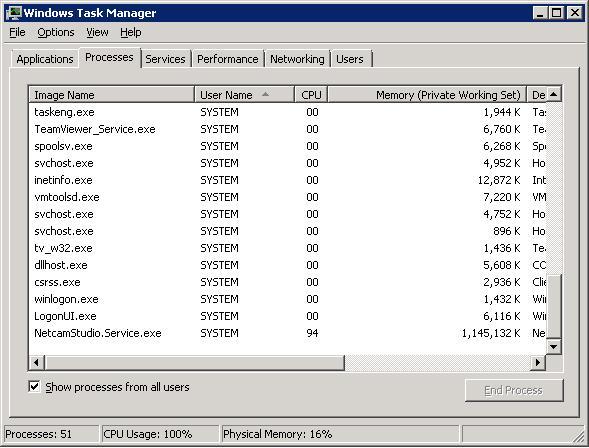 No recording, no motion detect, no user login.
Overload.

Hi! Certainly an interesting challenge. With that specification you certainly need a powerful cpu. Most likely multiple cpu´s since you are writing server solution. Size of RAM is usually not the problem. Maybe use 2 server systems. It is a little bit difficult to say at once. What system are you running this on today that you show above? Also, what type of LAN are you using for this? What happens when you connect 5, 10 , 20 , … cams?
-Henrik
With the number of this camera, I need server hardware requirements like. Would you recommend anything?
My server: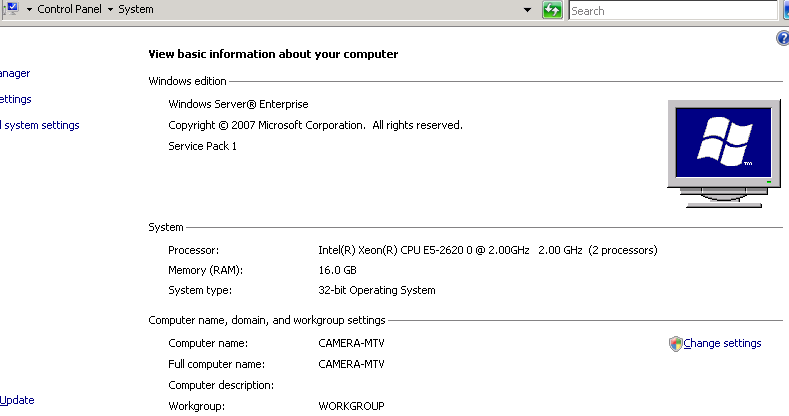 LAN use Gigabit.
Thanks.
Hello,
64 camera is already challenging but 64 x 1080p is even more

Anyway from what I see from your server. It already won't do the trick for 8 of those cameras.
32-bit OS: The software will crash as soon as it wants to use more than 3.2GB of Ram.
Is it really a physical Windows Setup or running in a HyperV / VM ware virtual machine ?
What is this operating system? Windows Server 2003 32-bit? Actually I have already noticed that Netcam Studio is not a huge fan of those 2Ghz Xeon computer. It actually prefer a faster i7 even it has less cores / threads.
Since you only need 4FPS the most important is to directly forget about using RTSP. You must connect the cameras using a JPEG or a MJPEG template.
My requirements would be:
Intel® Core™ i7-6700K Processor
16 or 32 GB DDR3 Memory
SSD Drives
Windows 8 or Windows 10 Pro or Enterprise or Windows Server 2008 . In all cases 64-bit !
It's VMWare virtual machine.


Thanks.
Already good that it's not an Hyper-V machine. At least VMWare has acceptable drivers for graphic card and don't lose all possible acceleration on the way.
What are the specs of your VM machine in this case?
Give it at least 4 cores (more if you can), memory 16GB should be fine.
Please run https://novabench.com/ in your virtual machine and post the report here.
For me you'll need at least a note of 1000-1200 for what you want to do.
Once a customer gave me a Dell PowerEdge Server with Xeon CPU (also a 2Ghz Xeon but from 2010 which is now end-of-life), despite it's a server it had a note of 400, we could by changing a few settings and managed to get to 750 but unfortunately everything was still pretty slow (memory, disks and cpu).
NovaBench Score: 765
4/14/2016 1:03:21 PM (Vietnam)
Microsoft Windows Server 2008 Enterprise
Intel Xeon E52620 0 2.00GHz @ 1999 MHz
Graphics Card: VMware SVGA 3D
16383 MB System RAM (Score: 211)
CPU Tests (Score: 546)
Floating Point Operations/Second: 202959112
Integer Operations/Second: 522828376
MD5 Hashes Generated/Second: 739006
Graphics Tests (Score: 0)
Hardware Tests (Score: 8)
Primary Partition Capacity: 20 GB
Drive Write Speed: 101 MB/s
How to step by step add Hikvision DS 2CD2120F-I to NCS?
Please check chapter 2.2.3.2 Connecting a network Camera of the user manual.
If there is no existing template you may have to use the custom url approach or request us to prepare templates for your camera (in which case we need remote admin access to your camera).
My camera not existing template. I custom url not ok.
Plz add my Skype: hoaminduc.
Thanks.
You can either check if @Henrik is available for preparing it
Otherwise on monday a new team member is joining our support team, it will be good training for him so just send an email through the support contact form tomorrow or monday with the connection details.
In both cases, ensure that one of your HK camera is reachable over internet (ports 80 and 554 forwarded).
Thanks
My boss bought licensed to the 64 cameras already.
I will send an email request for help. Please check your email. My email is duchm@minhtrigarment.vn
Thank so much.
Hi again! Now It is morning here in Brasil ;). I do not know how much you would like to experiment with this, but here are my ideas.
Just for comparison, in one of my own installations I have VMvare ESXi 6 running on a Xeon E3-1220, 3 GHz processor, 4 cores. 15 cams from 1280x960 to 640x480, 20 FPS. CPU load is 95% so it is on the limit.
I checked your processor E5-2620 and it is a 6 core processor. So with 2 cpu you have 12 cores. As stated above you need a 64-bit OS and I would say server 2012 since I think 2012 is a little bit more efficient. Since you are running VMware you have some other virtual machines also running. How many cores can you give to this camera application?
As for adding a camera check the manual first for the general view with Custom URL. Next step is to find the correct URL which is the challenge. Your cameras work with h.264 and mjpeg and as we need to keep the cpu load low and you need only 4 fps we use mjpeg. If you want to do some experimenting yourself do the following
First check the manual of the camera if they say which URL to use when connecting to the camera using mjpeg. You can also login to the camera configuration. Sometimes they have this URL information there.

Some searching gives that
http://ip/Streaming/channels/1/preview
works for mjpeg.
So when adding this cam go to Custom URL. Set Stream Type to MJPEG.
For Address type:
http://username:password@camera-ip-number/Streaming/channels/1/preview

Hikvision seems to have standardized how to connect to their cameras:
http://username:password@ip/Streaming/channels/ID/httppreview
ID can be 1 or 2.
Test and see if it works. If not, we will assist you as admin mentioned above.
-Henrik
I'm from Viet Nam. Half way around the earth.


I've tried your way but were unsuccessful.
I used RTSP H264, it successfully but CPU overload.

Hi!. Good that you can connect the cam. Adding the camera with MJPEG did not work?
Did you get cpu overload when adding only 1 cam?
Overload for only 2 cams is strange.
64-bit OS is good.
A more powerful processor: good.
Is this also a virtual machine?
If it is a virtual machine, how many other virtual machines are running on this server?
This is a physical server. NCS is the first software to be installed. Maybe I was wrong somewhere. I will try again. : D
Thanks.
Make sure that you also installed the 64bit version of NCS.