Please add the Sharx HTNC 4404M Camera to the list of supported cameras in Netcam Studio.
Thanks,
Joe
Hi Joe,
It is very little information about this camera on the Internet. However, the specifications tells me that the camera support the ONVIF standard so you can add the camera to NCS using the tab ONVIF. This will give you video and audio. To also have PTZ I need much more information about the camera and the commands it use for controlling PTZ.
In an upcoming new version of Netcam Studio adding a camera with ONVIF will also add the PTZ function. This is a great new feature that will make it much more easy for users (and me) to add new cameras to Netcam Studio. The release of the new version is not far away.
-Henrik
Thank you, Henrik,
Please let me know what information you need and I can send it to you.
I will try the "new" version a little later today.
Joe
Henrik,
I cannot tell which file to download. None of the files in that folder indicate NCS 1.3.9.0
Thanks,
Joe
Sorry, sorry!
It is the one ncs-inst-x64.exe and is 1 day old.
-Henrik
Where would I find the ONVIF Profile that is needed?
Joe
select onvif source
browse or enter IP number to the onvif device
enter username and password and get profiles.
the camera should now respond with different video/audio profiles in the field onvif profile
select PTZ mode. Depends on camera.
If this should not work the camera do not support onvif.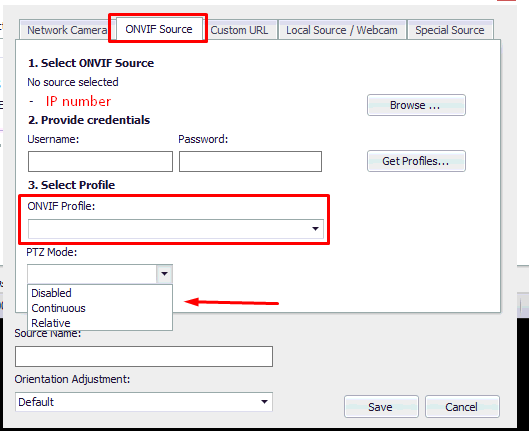 Nothing appears in the ONVIF Profile box after clicking on Get Profiles. Sharx assures me that the camera fully supports ONVIF.
Hm, can you go back to version 1.3.7. That version also support onvif, but not ptz and see if that works. This is a stupid question, but I have to ask if you use correct login. I have a camera that use default login for onvif and another login to access the configuration in the camera.
Another test is to use onvif device manager that is free to download. A very useful tool to investigate what is going on.
-Henrik
Using onvif device manager did detect it. Problem going back is I have to uninstall the newer version and I am afraid I will lose the other 5 setups and scripts that I have.
Joe
In that case stay at 1390 since it is quite different from 137.
Do the following:
-in device manager you can see the URL to connect to the camera to get video and audio. I think it is in the menu Image … and up middle it write the part of the URL to use.
-in NCS go to Custom URL and set stream type to rtsp_tcp
-in the address field write:
rtsp://username:password@ipnumber:554/xxxxxxxxxxxxx
where xxxxxxx is the text that you have from the device manager.
Since you have a dialog with Sharx they should also be able to provide you with this URL.
-Henrik
Looks like device manager sees it… then gives an error. The underlying connection was closed. The connection was closed unexpectedly.
I found some info at the Sharx homepage. For the htnc cams use port 554 and the xxxxxx is
high resolution: /1/1stream1
low resolution: /1/stream3
rtsp://username:password@ipnumber:554/1/stream1
You can test this in VLC also.
-Henrik
BINGO!!!
That worked.
THANK YOU!!
Joe
Excellent!
Strange that onvif do not work. However, I make a template for this camera.
-Henrik
Will it be possible for you to create a template for it so I can take advantage of the Motorized Zoom and Focus?
Thanks,
Joe
Then I need information about what these commands are. Maybe you can ask Sharx?
These commands are sent by http.
Blue Iris software can see the camera using ONVIF and the Zoom & Focus can be adjusted.
Can you go to Dropbox and download again. Maybe I was a littlei to quick. There is a new version in Dropbox. Please, download and test.
-Henrik