Cannot connect USB camera …running in Win 10
Hi James,
To be able to help you must give me more information. What USB camera is it, name and model. Is it a new or old one. "Cannot connect …", describe steps and when it goes wrong, …
.Henrik
640x480 USB Camera ELP-USB30W4MT-L36
the camera connects with other viewer programs ie; Amcap, even skype
Here is a link to the camera that I purchased:

Thanks. Do you see the camera in the list and it gives no video or you don´t see the camera in the list?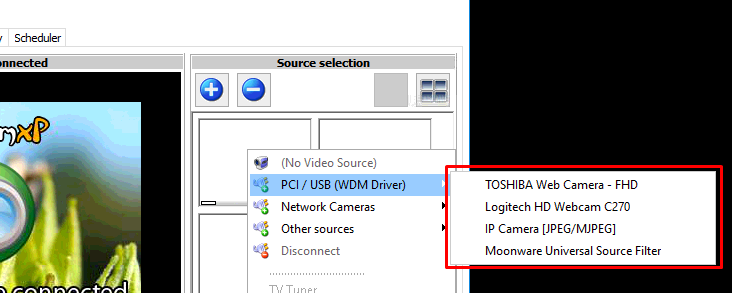 Alternative to test is to download Netcam Studio that works a bit different. Make sure to use the 32 or 64 bit version of NCS depending on the driver. If it is a relatively new usb camera use NCS 64-bit version. http://netcamstudio.com/Download
-Henrik
The List shows…"USB Camera" When I select it…I does not connect.
Informations…shows the following:
Video Source: USB Camera
Resolution: 0x0
Source Name: USB Camera
Maybe it is a driver problem. Is another program running like Skype or Amcap that blocks it?
Did you test it with Netcam Studio?
No other program running that could be blocking it…tried it with netcamstudio…and it connected.
Still does not connect in Webcam Xp5
OK, good that it works with NCS. How about webcamxp 7? Last the classical one, uninstall webcamxp5 completely and install again. Sometimes it goes wrong.
I have webcam7 Pro running on another computer with XP pro…and the camera connects and runs just fine
I tried uninstalling Webcam5 and reinstalling it on the Win 10 computer…still, will not connect.Maybe something about the Win10 USB driver that it does not like??
Take a look at my device manager snapshot…in Events, there seems to be some issues
JIM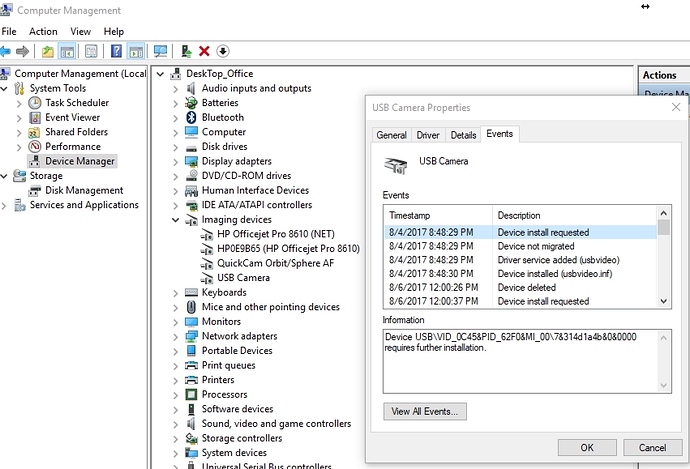 Excellent that you have tested different things and it seems to be a driver problem. On this same computer did NCS or any other webcamxp program worked with this camera?
On the other computers where it works is this Quickcam Orbit/Sphere AF installed? I am not so worried about the HP drivers, but this camera driver might be the problem.
What you can do is:
-delete the "USB Camera" driver. Connect the ELP camera again. Wait a little bit so the driver installs and then start webcamxp. If it works, fine.
-if it do not work delete both the driver for QuickCam Orbit and the USB Camera.
-connect the ELP camera again and let it install the driver. Start webcamxp again. Hopefully it works.
You might need to restart the computer after deleting drivers just to be sure the driver is gone.
-Henrik
I unistalled both cameras, ELP and Quick Cam Orbit…restarted the computer. Drivers were all gone…then Plugged in just the ELP …still will not connect.Must be something about the universal USB cam driver that it is installing, that is causing a problem with Webcam5.JIM
Do you have another USB cam to test with? Check also the Universal Serial Bus Controller. Then I am out of ideas. Do you must use WebcamXP?
I am actually trying to help another person set up his Win10 computer with this camera and WebcamXp5…my setup with XpPro and Webcam7 is all running just fine with this camera…not really sure why??
So…at this point, I think that we have beat this to death…enough time spent.
I really what to thank you for all of your help on this…if you do come across a solution please let me know.
Many thanks…JIM