Good morning, everyone,
First of all, I'm new to this field, so I apologize in advance if I ask stupid questions.
What I want to do: I have a camera and I can only read the feed with an SDP file (which I open with VLC), so I don't know its URL address that allows me to get its RTP feed. My goal is to create a DirectShow compatible virtual camera with this stream and then integrate it into software (DEWESoft).
What I have done so far: to do what is described above, I built a graph on GraphEdit with "Moonware RTSP Capture Filter v4.2". (to play the video stream via the SDP file) --> "Color Space Converter" --> "Virtual Camera Renderer" (to create a virtual camera). First, is it a good solution to do this type of graph? Are there other solutions to do this?
My problem: then, as you can see in the image below, the filter is in its demo version, but I can't find where I downloaded this filter (to get the paid version). I tried MUSF and webcam7 but this filter doesn't seem to record with these two. Also, could I use the filter directly in GraphEdit, because I see "For only use in Moonware Studios Products"?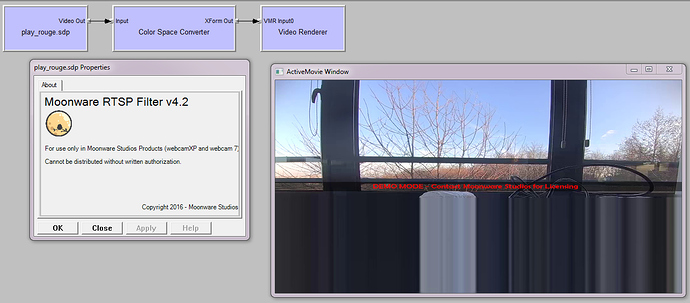 Thank you in advance for your answers.
PS: Excuse me if my English is approximate, it is not my mother tongue.